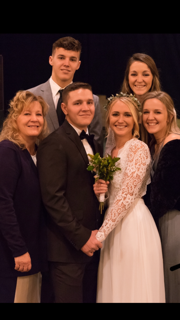 Jill is Jody's twin and she manages the Catering Department at The SpringHouse. She graduated from Penn State in 1988 with a degree in Elementary Education and then taught school in Baltimore before realizing that they wanted to raise their growing family in Western PA with grandparents nearby and a farm for running and learning. Her son Isaac provided the first opportunity to cater to a Third Generation wedding when he married his best friend, Morgan.
They live in Twenty Nine Palms, California where Isaac is a Marine, and Morgan is completing her teaching degree. Jill's oldest, Abigail, hosted her wedding in the cow pasture that same year when she married her best friend Devin Harris; they live in Virginia where Abby is a counselor for troubled youth and Devin has his own power washing business. Daughter Sarah graduated with a Business Degree and works in Pittsburgh as a Catering Consultant.
Sarah and her best friend Geb (Zack Gebhart) are planning a Spring wedding on the backside of the farm so Jill will have three of her four "grown and flown"! Zechy is currently in California with his brother and sister-in-law trying out some different avenues and scenery! Jill loves her God, her church, her family, her catering staff, and co-leading The SpringHouse with her siblings and her mom.